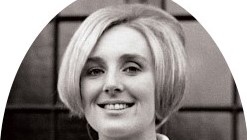 Jill Rosemary Dias was born as Jill Rosemary Rainey in West Bromwich, England, in 1944. She obtained a PhD. in English Local History at Oxford University in 1973 and then married a Portuguese, Alberto Romão Dias. After their marriage the couple went to live in Angola. In Luanda, Dias developed an interest in 19th century Angolan society, and studied Angolan historical archives while the Angolan War of Independence was raging.
To become a naturalized Portuguese, Jill Dias found that authorities required her to change her middle name of Rosemary to Rosa Maria. Finding such bureaucracy amusing, she always continued to sign her name as "Rosemary". Dias joined the Department of Anthropology at the Faculty of Social and Human Sciences (FCSH) of the Universidade Nova de Lisboa in 1982, becoming a Full Professor in 1996. Her work there is said to have inspired contemporary research in Portuguese colonial and post-colonial anthropology and in the history of Lusophone Africa. She promoted the establishment of the Centro de Estudos Africanos e Asiáticos at the University and headed the Centre from 1986.
After her death in 2008, her family donated her documents, books and photographs to her University. She had collected around 5000 photographs and negatives but, unfortunately, had not catalogued these. They included 1331 postcards from Angola, Mozambique, Guinea, São Tomé and Príncipe and other African countries, dating back to the 1890s. The collection also included 1960 slides, and 1181 photographs dating back to the 1880s.
For more information, see this link to Wikipedia.