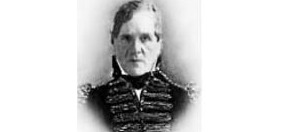 Henry Veitch was born in Selkirk, Scotland in 1781 and died in Funchal in 1857. An important wine merchant, who became very rich, he was appointed in 1809 as British consul-general in Madeira but eventually lost the position after conflicts with other residents and the Anglican church.
On August 23, 1815, Veitch was the only person from Madeira who was allowed to board the Northumberland, which was carrying Napoleon to exile in Saint Helena. He provided the ex-Emperor with fruit, some other gifts and a "pipe" of Madeiran wine (around 600 bottles). Napoleon replied by sending some gold coins to pay for the boat that had carried these provisions to the ship. According to tradition, Veitch threw the coins under the cornerstone of the Anglican church, when the foundation was laid for its construction. Veitch designed and was supervising the construction of the church.
The barrel of Madeira was apparently never opened by Napoleon, and after his death was returned to the island, where it remained until 1840. Part of the contents were eventually used to fill 200 bottles and those that remain are now very rare, and very valuable. One was given to Winston Churchill, when he holidayed at Reid's Hotel in 1950, and he distributed the contents among the guests.
In 1828, during the Portuguese Civil War, Veitch provided protection to many of the Liberal supporters of D. Pedro who had fled from the mainland, as well as deserters from the Miguelist side. For this he was suspended as consul-general, regaining the position with the support of Palmerston in 1831. In 1832 he was briefly the de facto Governor of Madeira after the arrival of a Pedrist warship, negotiating an agreement that allowed the Governor and other leading Miguelists to leave the island. He was replaced as consul-general again in 1836 following complaints about his behaviour, including those of Protestant evangelists, who he considered insensitive to the Portuguese. As well as being on the Liberal side, he was also a strong supporter of Madeiran autonomy.
Veitch spent a considerable part of his fortune on the purchase or construction of several noteworthy buildings that remain in Madeira to this day, including his former town house with its tall observation tower, which is now used by the Madeira Wine Institute, and the Clube Naval do Funchal, as well as the Quinta da Jardim da Serra (now a hotel), where he started the cultivation of tea.
Despite all these achievements, Veitch is perhaps best remembered for his sexual proclivities. There are various stories. One suggests that at his Quinta he surrounded himself with a harem of 30 girls and young women. An alternative version is that he continued his building in the villages, providing cottages for his girlfriends, who he would visit when in the area. Numerous children resulted and there can be few people in Madeira who now lack a drop of Veitch blood.