Member Marcus De La Poer Beresford, Lord Decies travelled to Lisbon to launch the Portuguese edition of his empirical work on the life and career of his distant relative and fellow Irishman, William Carr Beresford, Marshal of the Portuguese Army from 1809 to 1820, whom the Duke of Wellington described as "The ablest man I have yet seen with the army" during the Peninsular War.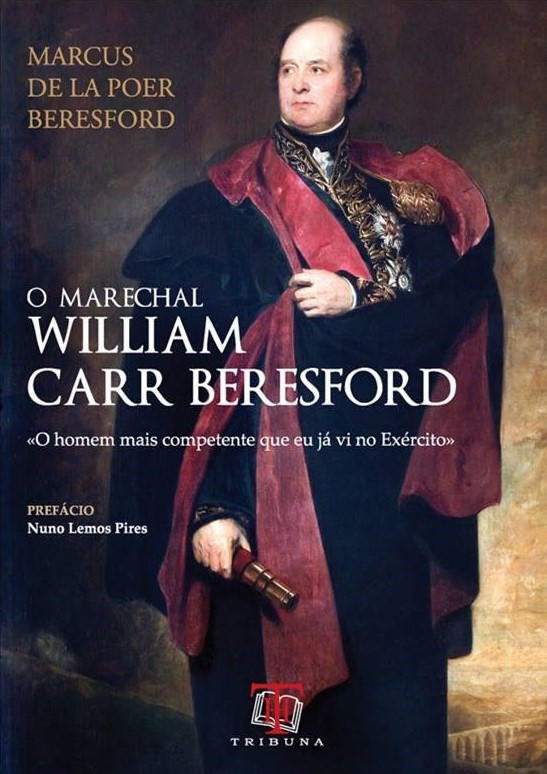 The launch took place at the Calouste Gulbenkian Foundation on the 23rd of November and was hosted by the publisher of the book, Tribuna de História, whose Chairman, Pedro de Avillez, presided over the event. More than 80 guests were in attendance, including the Chief of Staff of the Portuguese Army General Nunes da Fonseca, the Author's whole family and friends who had travelled over from Ireland, leading Portuguese public and military figures including the former President of the Portuguese Republic General Ramalho Eanes, diplomatic representatives, and members of the British Historical Society.
From the left: former President Gen. Ramalho Eanes; Prof d'Oliveira Martins; Gen. Nunes da Fonseca, Marcus Beresford
Pedro de Avillez opened the event with a brief introduction, during which he congratulated the Author, Marcus De La Poer Beresford, for the quality of the book and thanked Brigadier-General Nuno Lemos Pires for writing the excellent preface. Next, Professor Guilherme d'Oliveira Martins, a Trustee of the Calouste Gulbenkian Foundation, delivered a highly engaging and informative review of the biography of the Marshal and explained how Beresford had been instrumental in rebuilding the Portuguese Army into a highly respected and disciplined fighting force rooted in Liberal principles, which undoubtedly led to Portugal remaining an autonomous nation which was never to be subjugated again after the 'French Invasions' of 1808 to 1811. The Author then concluded with an address impressively delivered in Portuguese, in which he referred to more of the Marshal's qualities, including relating that Beresford remained a loyal confidant and advisor to the Portuguese King, D. João VI, even after he left Portugal, although in his closing remarks he concluded that this notable historic figure was not without defects. For many a year Beresford has been considered to be a controversial figure by many Portuguese historians, who incorrectly accuse him of putting an end to an attempted political coup in 1817 by hanging the ringleaders while the King was in Brazil, when in fact the decision to imprison and condemn the conspirators was made by the Lisbon Regency. There is little doubt that the publishing of this book will go some way to redressing this less-favourable opinion over the years and generations to come. .
Left -hand photo: centre (left) Maj-Gen Rui Moura, (right) Lt-Col. Kian Murphy, RM, British Military Attaché
Right-hand photo: (left) Mr Clive and Mrs Emma Gilbert, (right) the Author, Marcus Beresford