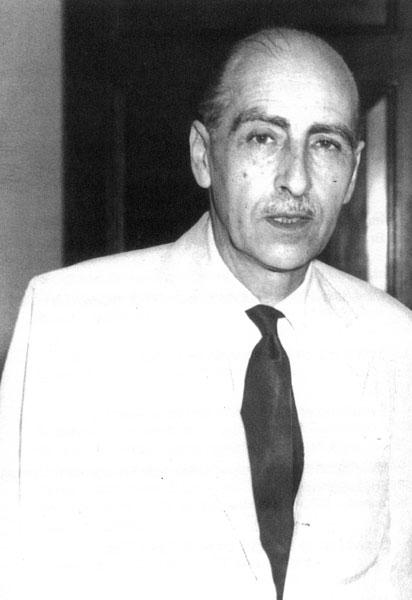 It is always a pleasure to receive positive feedback for our BHS Newsletters, as well as personal histories or additional source information. After "Saving one life, saving the world" about WWII refugees passing through Portugal was published in Newsletter 5, a reader came back with the story of her family who had passed through Lisbon at that time, saying that she had learnt something new about Portugal and its leader, Dr. Antonio de Oliveira Salazar. Another reader brought to the attention of the BHS a popular television series in the UK called "My Grandparents' War" The grandfather in this particular episode of the real-life TV series turns out to be the maternal grandfather of British actress Helena Bonham Carter.
Eduardo Propper de Callejón (Madrid 9 April 1895 - London 1 January 1972), was a Spanish diplomat who saved the lives of hundreds of Jewish refugees as the Nazis advanced through France, Of mixed Catholic and Jewish heritage, he facilitated the escape of Jews needing to cross neutral Spain to get to Portugal and then on to Lisbon and their final destinations by providing them with transit visas, despite having been forbidden to do so by the Spanish Government. When First Secretary in Vichy in Unoccupied France, Propper de Callejón had also managed to save his wife's art collection by declaring that the family residence at the Château de Royaumont, near Paris, was his diplomatic residence and thus could not be touched. Thus, a Van Eyck triptych was saved from Nazi art plunder, together with many other art works and both the château and the nearby Royaumont Abbey, so closely associated to the Ephrussi, Fould-Springer, Koenigswarter and Rothschild banking families, were saved and now are part of the Royaumont Foundation.
Little was known of Propper de Calléjon's war feats until he was honoured in 2008 by Yad Vashem in Israel and again in 2012 when Austrian Archduke Otto von Habsburg further spoke of him in a film called Felix Austria!, as Propper had also facilitated the Archduke's transit. Today, as Fortress Europe struggles to move out of lockdown we, too, remember Eduardo Propper de Callejón; a man who died in London far from his family roots, having used common sense and compassion to help so many others in times of dire need during WWII.