On the 13th September, 30 Members of the British Historical Society participated in a guided visit to the Palácio National de Ajuda, the last of the Royal palaces to be lived in by the Portuguese royal family up until the Declaration of the Republic in 1910.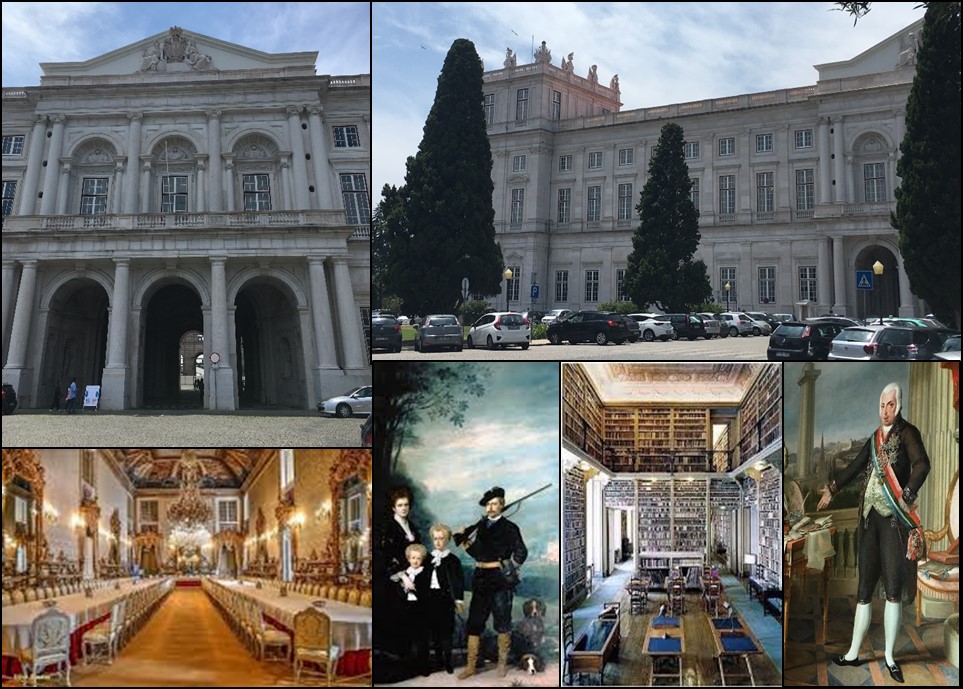 D. José I ordered the construction of a wooden palace on a basalt hill, as a hedge against a repeat of the 1755 Earthquake, known as the 'Barraca Real'. This burned to the ground in 1794 and in 1802 the building of a massive Ajuda Palace started – to be larger than Mafra. The Peninsular War interrupted the works, which recommenced in 1821, when D. João VI returned to Portugal with Carlota Joaquina and Princess Maria. The ambitious building plans were never completed. Prince Miguel was proclaimed king in the unfinished palace in 1828, and in 1834 D. Pedro IV confirmed the Constitutional Charter in the Throne Room. Queen Maria II never lived in the palace, nor did her son D. Pedro V, whose brother and successor, D. Luís I, and Queen Maria Pia of Savoy brought the palace to life. For half a century Ajuda was a family home, where Princes Carlos and Afonso were born.
We were shown the original rooms built during the reigns of D. Maria I and D. João VI, where many of the beautifully painted ceilings depict the return of the later from Brazil. D. Luís' wife, Queen Maria Pia supervised a massive re-decoration in 1862, which included gold inlay on the ceilings, silk wall paper and intricate wooded panelling, as well as a ´garden room', with alabaster walls .Perhaps the highlights were the magnificent Throne Room and the Banqueting Hall, which hosted dinners for King Edward VII and Queen Elizabeth II of Britain.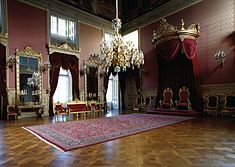 Our visit included a rare private guided visit to the Royal Library, where Alexandre Herculano was the Librarian. It houses 20,000 out of the 60,000 books which were transported to Brazil for safe-keeping in 1807, as well as 150,000 documents, including Royal papers and letters. We were privileged to be shown up close a 14 C forbidden copy of a Bible written in Castelhano, the 1493 History of the World using early moveable type, a 1570 Astronomy book, a priceless 1663 version of the Bible in a Polynesian language, an 1725 illustrated Botany book, Charles II marriage contract to Catherine of Braganza and a trade article following the Methuen Treaty. The library also has unique 15th C Jesuit records of life in Japan.
To end a busy morning, we repaired to the Restaurante São Bernardo for an excellent buffet lunch.