The Society organised five guided walks in Monte Estoril in November and December on the theme of 'Refugees In Monte Estoril, 1939-1945', guided by Inês Brandão of the Espaço Memória do Exílios refugees' museum and visitors' centre in Estoril. Due to the Covid restrictions, each group was limited to five participants. Inês first explained the historic background and situation of Portugal in the era before and during World War II which made Monte Estoril a transit point for thousands of people fleeing Europe. At the time, Monte Estoril possessed many hotels and boarding houses, as it was popular with Portuguese and European aristocracy. Refugees were granted permanent residence in Portugal in the early 1930s, but later all refugees were only given temporary or transit visas. From 1933 onwards, as Hitler rose to power, the Nazis introduced legislation to deprive fleeing Jews of their wealth. This 'early migration' from Eastern Europe went to Holland, Belgium and as far as Portugal. One of these immigrants was Professor Jacobsen, who opened the first Faculty of Bio-Chemistry at the Universidade de Lisboa.
In April, 1940, there was a massive emigration of refugees from Poland, Luxemburg, Belgium, and France. One million refugees were in Benidorm waiting for transit visas. Inês provided an interesting description of how Consul Aristides Mendes in Bordeaux was handing out as many visas as he could from mid- June to the 25th of June, including standing on the streets in the last hours as the Nazis arrived. It is calculated that 8,000 to 15,000 Jews were saved by Aristides Sousa Mendes. Thousands of refugees entered Portugal and were sent to Figueira de Foz and Curia first, and later to Caldas de Rainha and Ericeira. Later, in 1941, the Holocaust forced further emigration from the rest of Europe.
As the walking tour progressed, Inês pointed out buildings that remain from that time, starting with the Pensão Royale, where many British spies stayed who couldn´t afford to stay at the Estoril Palácio (where Ian Fleming of 'James Bond' fame stayed more than once), including Malcolm Muggeridge. It was originally a private home and after the War it became a tea room. The Intercontinental Hotel now stands where the Hotel Atlântico used to be, which had German and Dutch owners, which is why it has an (unsubstantiated) reputation of being the hotel of the German spies. Leslie Howard stayed here for a month – or rather, he left his luggage here while he travelled around Portugal giving propaganda lectures – before he was killed on a KLM-BOAC flight on 1 June, 1943. Jacques Kugel, a high-class Jewish jeweler from Paris also stayed here, after fleeing from Nice on a Liberian diplomatic passport.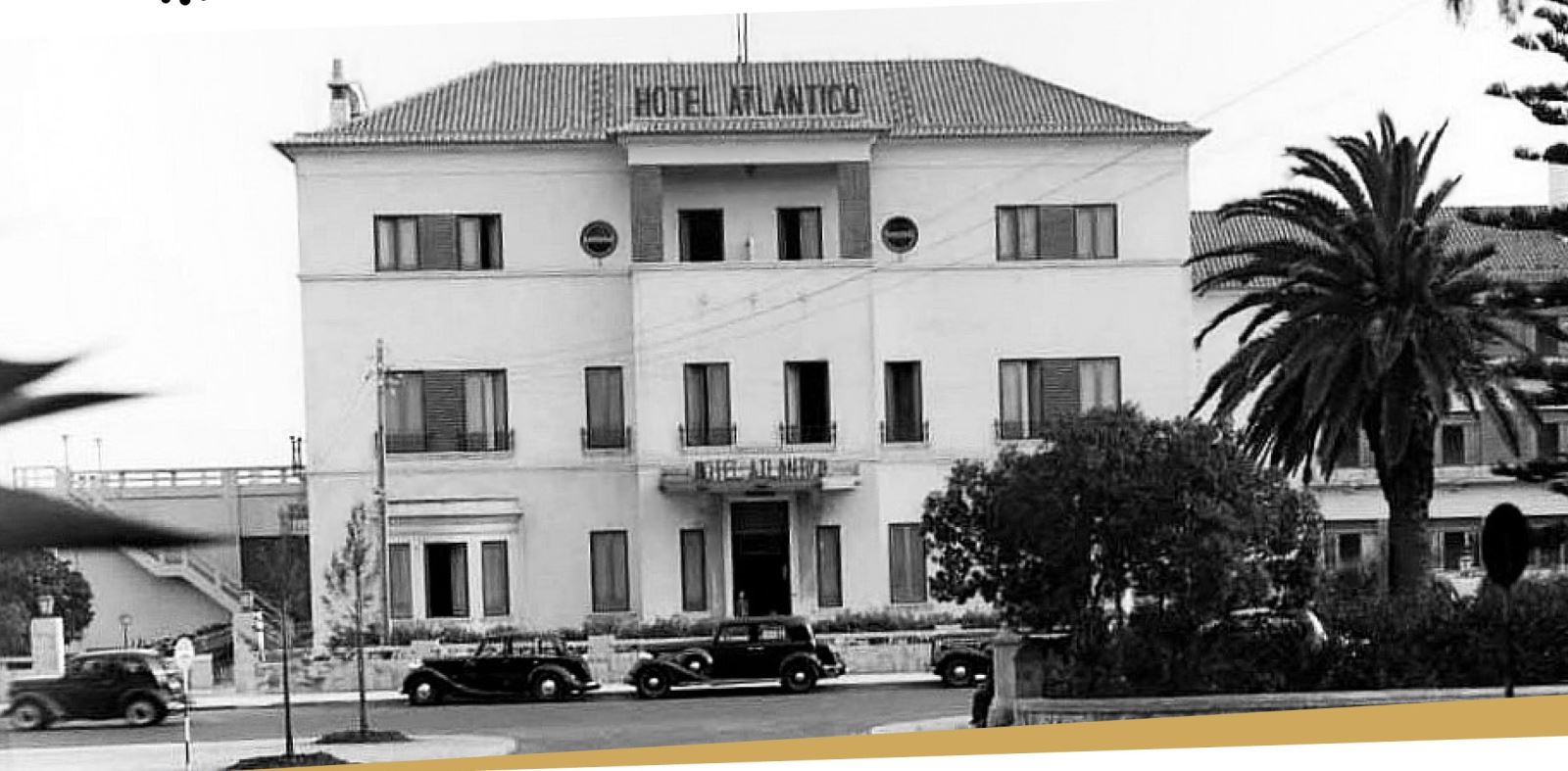 Hotel Atlântico in 1945 and 2020
The walk included a stop at the ruins of the Hotel Miramar, which was destroyed by fire in 1975. Nearby was Vila Hortência, which has long gone. In 1938, Sigmund Rosenthal sent his family to Portugal to join a cousin. His cousin had opened the factory of Moliflex in 1935, in partnership with the grandfather of Rui Moreira, the current mayor of Porto. In 1942 the family was sent to Caldas de Rainha. Sigmund stayed to manage the family business and was killed at Auschwitz. He sent a gold watch to his family via the Red Cross and a postcard to Vila Hortência, which today are in the possession of his granddaughter, Anita Rosenthal Ayash, who practises as an educational psychologist in Cascais. The walk passed in front Edifício Jardim de Saboia, which used to be the garden of Chalet Posser de Andrade, which has now been demolished. The Luxembourg Royal Family and Government stayed here after moving from Casa Santa Maria, near the Cascais lighthouse, which was owned by Manuel Espirito de Santo. Next we walked in front of Chalet Alexins, whose owner used to rent out rooms privately to refugees.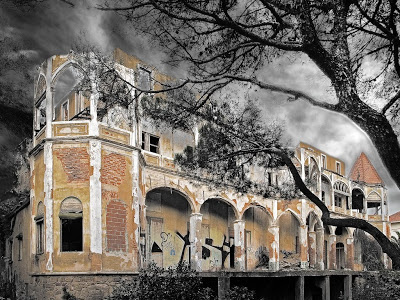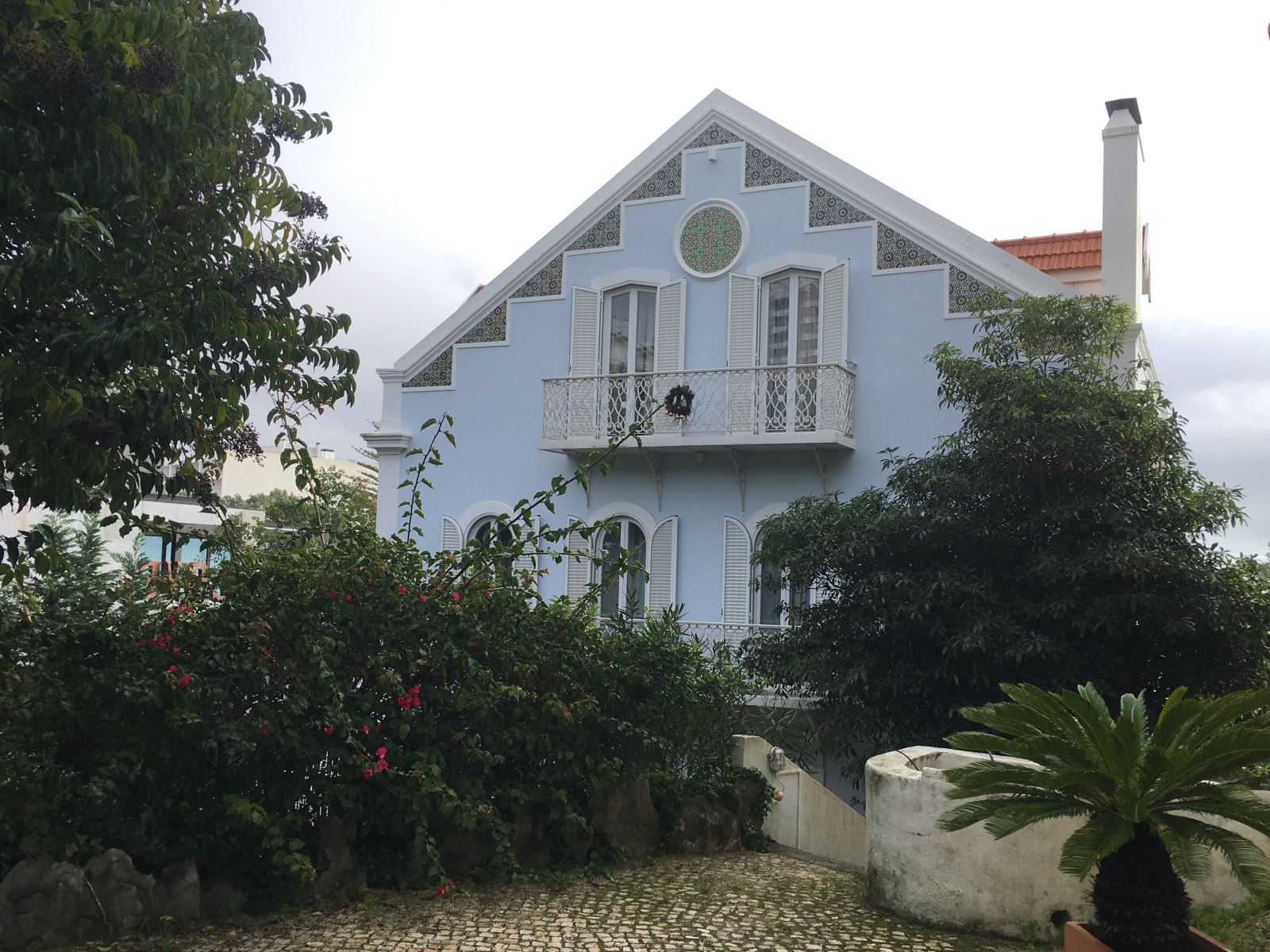 Hotel Miramar (burnt down in 1975) and Chalet Alexins, 2020
The walk ended in front of two large buildings which dominate Monte Estoril, previously the Grand Hotel d´Estrade and the Grand Hotel d´Italie, which at the time were used extensively by refugees and have now been converted to apartments. The Grande Hotel de Estrade was built in 1910. It was here that a 21 year old young Dutchman called Jan Plesman stayed from 13-21 May, 1941. He was a pilot and the son of the founder of KLM and in 1940 he cycled down to Portugal with a friend. His file is still subject to the Official Secrets Act, as the British Secret Service contacted him and smuggled him to Britain, where he joined the RAF in 1943. There were sufficient Dutch to form 322 Squadron. Tragically, on 1 September, 1944, Plesman was shot down over France, aged 24. His body was never found. The Grande Hotel d'Italie changed its name after the War to the Grande Hotel. Max Ernst (the German surrealist painter, who had been in a Nazi internment camp from 1939-1940) and his lover Peggy Guggenheim stayed here from 9 June to 21 July 1941, after which they left by the "Clipper" flying boat for the United States. Peggy's ex-husband, Varian Fry and his second wife Kay also stayed there, but were constantly arguing. Peggy Guggenheim was the niece of the founder of the Guggenheim museum in New York. Her father died on the Titanic. On the other side of the Jardim dos Passarinhos stands the Hotel Sabóia, which also housed refugees when it was the Pensão Zenith.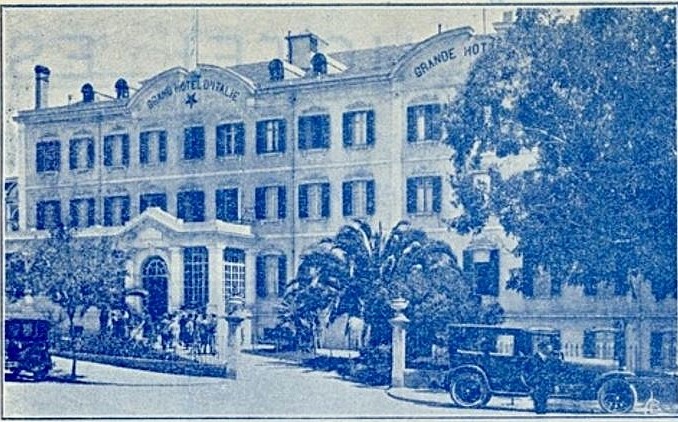 Grand Hotel d´Italie (later Grande Hotel) in 1933 and 2020
Most of the refugees were not famous, but each has a story. An unusual level of detail on the refugees who stayed in Monte Estoril exists, because the Câmara Municipal of Cascais preserved copies of all the hotel registration forms for that period. Other municipalities destroyed these forms over time. Because of this, Inês explained that she is able to find the exact dates of stay in Cascais, the names of family members they were traveling with, the passport number and other identity details. This has allowed her to help families trace and reconstruct the history of many refugees and help connect people to their past.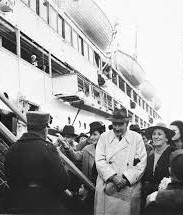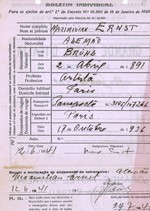 Grande Hotel d'Estrade (2020) Refugees leaving Lisbon by boat Max Ernst at the Grande Hotel
The walk was very much appreciated by those how were able to reserve a space and it is planned to repeat the tour in the near future.