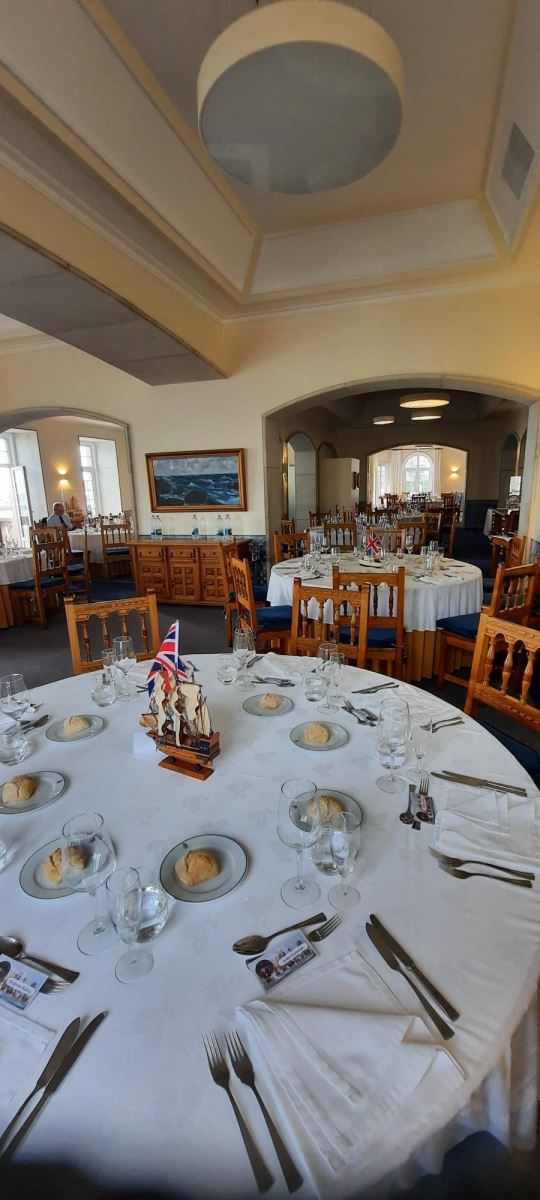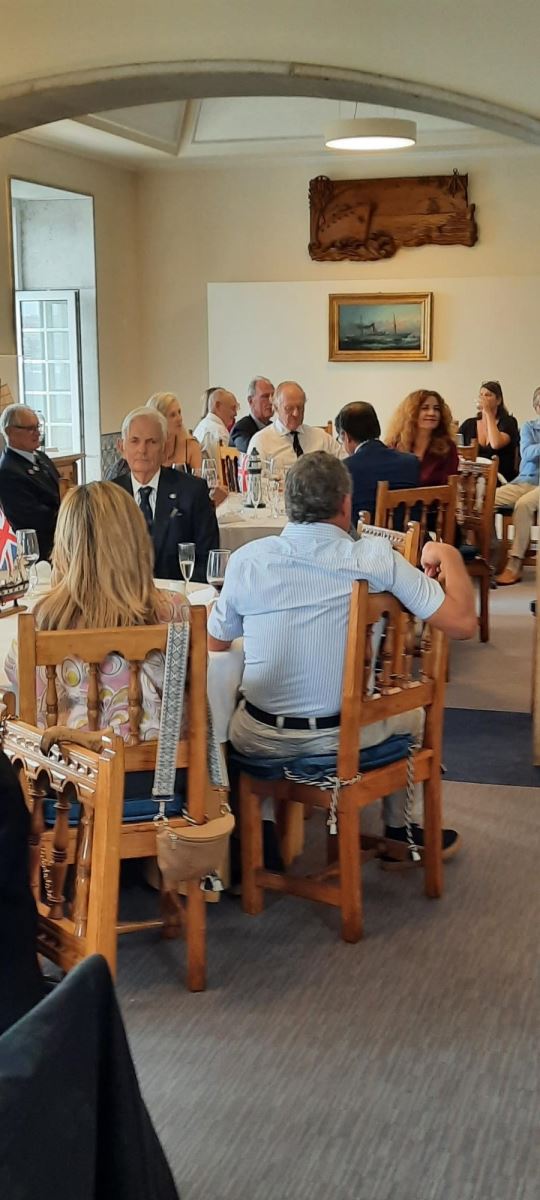 TRAFALGAR DAY LUNCH 2022
On Thursday 20 October a Trafalgar Day Lunch took place in the Messe da Marinha of the Portuguese Navy in Cascais, a most appropriate location. The British Historical Society was one of the co-sponsors of the event, which was organized by the Royal British Club. Unfortunately, it was not possible to hold the event on 21 October, Trafalgar Day itself. Our chairman, Edward Godfrey, gave participants a brief summary of the events leading up to the battle, the battle itself, and the aftermath. Our member, Ninna Taylor, has kindly written her view of the Battle of Trafalgar, as follows.
The names Trafalgar and Horatio Nelson are known to most – if only because Nelson's column and the square of the same name are the most iconic monuments in London.
Where is Trafalgar, one might be tempted to ask and why is the area where it is located known as the Costa da Morte? Taraf-al-Ghar – a Moorish word that was anglicised to become Trafalgar after the battle – is a promontory in the Province of Cadiz, Spain, northwest of the Straits of Gibraltar. The words mean "a cave of laurel", laurel as a symbol of valour, of military success. And what could be more prophetic than the name of Admiral Nelson's flagship - HMS Victory - for our present-day tale.
From a historical perspective, the Battle of Trafalgar was a key naval engagement between the Royal Navy and the combined French and Spanish fleets. The Battle gave Britain command of the seas and put a full stop to Napoleon's plans to invade the United Kingdom.
Napoleon's staff had been biding their time prior to their engagement with the English but Napoleon was now becoming impatient as the French Fleet, under the command of Admiral Pierre de Villeneuve, had been blockaded in Toulon by Nelson for one and half years. In March 1805, the French managed to slip through the blockade and rendezvous with the Spanish fleet at Cádiz, closely followed by Nelson, and so began a chase that took them all the way to the West Indies and back. On returning to Europe, the combined French and Spanish Fleet took refuge in Cadiz. Orders were then received from Napoleon for the fleet to proceed urgently into the Mediterranean for further operations. As it left Cadiz on October 19 1805 and entered the open seas, Nelson was waiting. The 5-hour long Battle of Trafalgar was about to commence, as shown in the painting below by J.M.W. Turner.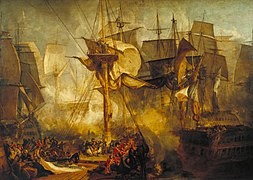 Nineteen enemy ships were destroyed – no British ship was lost Some 458 British sailors were killed and 1208 were wounded, as against 4395 enemy sailors killed and 2541 wounded. Some 20.000 sailors were taken prisoner by Nelson's crews. His strategy was audacious: he split the allied French-Spanish lines by sending in two columns of his own better-trained ships with faster, heavier guns to disorient Napoleon's ships, many of which were commanded by relatively inexperienced captains; the more experienced ones, having fallen out of favour, had been forcibly retired by Napoleon or executed during the French Revolution.
Of Nelson, Byron wrote: "He is Britannia's God of war." This battle is still remembered today because it established British naval supremacy for the next one hundred years and almost shattered Napoleon's invasion plans. Instead of going to England, he then decided to send his troops across the Iberian Peninsula to invade, in later years, ... Portugal.
The battle itself has been described in numerous books and featured in many a film. Nelson was an inspirational leader, admired by his men, with great skills in naval strategy and tactics. Nelson's love letters to his mistress, Emma Hamilton, written with his left-hand, after he lost his right one, in yet another of his famous sea battles, make him ever the romantic hero. As did his message at Trafalgar to send his men into battle: "England expects every man to do his duty!" Or his dying request to his captain and friend, Thomas Hardy, to kiss his forehead and hand before he expired is just the stuff that makes legends.
In 1922, Nelson's 104-gun flagship (pictured) was moved to dry-dock at Portsmouth and is the oldest naval ship still in commission with 244 years' service to her credit - as of 2022.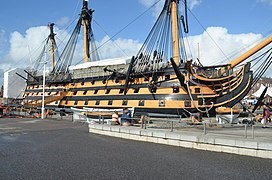 On British warships and naval establishments Trafalgar Night is celebrated with the parading of the Beef (an old naval tradition), with many a naval song sung before the night is out. This festive celebration is usually followed by the more sombre Pickle Night – which is probably not what you think it is - for HMS Pickle is the ship that arrived in Falmouth on 4th November 1805 to announce to the Nation both victory and Nelson's death (Nelson was shot by a French sharpshooter in chest and shoulder and died on board his flagship HMS Victory on 21st October 1805). His dying words were: "Thank God I've done my duty." At both events, toasts to the effect: "To the Immortal Memory of Lord Nelson and to those who fell with him" are made.
And for Portugal today, does the Battle of Trafalgar hold any special meaning? First, today, it is always good to remember that two nations - the United Kingdom and Portugal - have never been at war against each other or on opposing sides. Second, the year 1805 saw Napoleon's empire almost at its pinnacle. It was no doubt common knowledge - in military and naval commands on both sides at the time – that the French Emperor had plans to seize the Portuguese fleet at the earliest opportunity, because Lisbon and the British Factory merchants were very active, Lisbon being the most obvious port of call to and from all Portugal's colonies - and a safe harbour for the naval and merchant fleets of both countries in the forthcoming Peninsular War. So the Battle of Trafalgar confirmed Britain's supremacy of the seas.