On Saturday, 16th July the BHS had a guided visit to the Portuguese Air Force Museum at Air Force Base 1, Granja do Marqûes, Sintra followed by the annual picnic hosted by our Chairman and his wife, Clive and Emma Gilbert at their home in Colares, Sintra.
Twenty four of our members were met by Cabo Bruno Pedro, a serving Portuguese airman, for a guided tour of the Museum (Museu do Ar in Portuguese), which has additional sections in Alverca and Ovar. The Sintra section, where most of the aircraft are stored in the 3,000 sq metre main hangar, was inaugurated in 2009, 100 years after it was first built! The Museum won the prize for best Portuguese museum in 2013.
Worth highlighting is the renowned British single-seat fighter the Spitfire, as well as the Tiger Moth, a biplane for elementary practice and the Widgeon, a twin-engine amphibious plane. There are also replicas of famous planes dating back to the beginning of the aviation era, including that of Brazilian Santos Dumont's first un-assisted powered flight in 1923, as well as more recent jets such as the F-86 Sabre. He also showed us a Dakota DC3 that had been used at the Normandy Landings. About 42 aircraft are presented, together with photos and artefacts that document the first 100 years of military and civilian aviation in Portugal. Other interesting aircraft that can be seen at the museum include the Junkers JU52 (1930), the Avro Cadet (1931), the DH-87 Hornet (1934), the DH-89 Dragon Rapide (1934), and the DC-3 Dakota (1935).
Cabo Pedro also pointed out a cabinet with the history and photo of of Paula Cristina de Paiva Ferreira e Costa, the first Portuguese woman to take the "brevet" of pilot in the Aviation School in 1927 at the Granja do Marquês in Sintra and Isabel Manuela Teixeira Bandeira de Mello Rilvas, who formed the first group of female military parachutist nurses.
After the tour ended, we were able to look around other parts of the museum, including the sections devoted to the history of TAP and ANA - in particular the section of photos of famous people who had passed through Lisbon airport in the 1950/60s: Sophia Loren, Jacqueline Kennedy, the Duke and Duchess of Windsor, Jerry Lee Lewis, Rudolf Nureyev, and Robert Wadlow – the tallest man recorded at the time - to name but a few.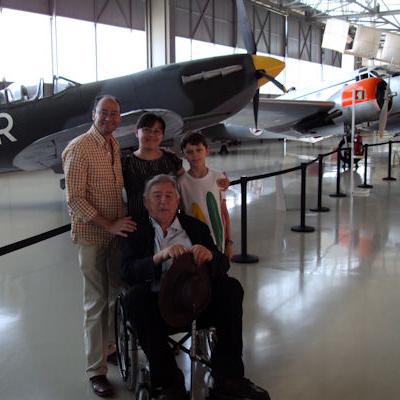 At the end of the visit we all boarded the bus for our journey to the Gilberts' residence for our annual picnic in the shade of the cork trees in their lovely garden.
Article written by member Jackie Kennard.