GUIDED TOUR OF THE BRITISH CEMETERY, ST GEORGE'S CHURCH
THIS EVENT HAS BEEN POSTPONED DUE TO COVID-19 TRAVEL RESTRICTIONS
(New dates will be announced shortly)
A guided tour of interesting graves to celebrate the launch of the new guide*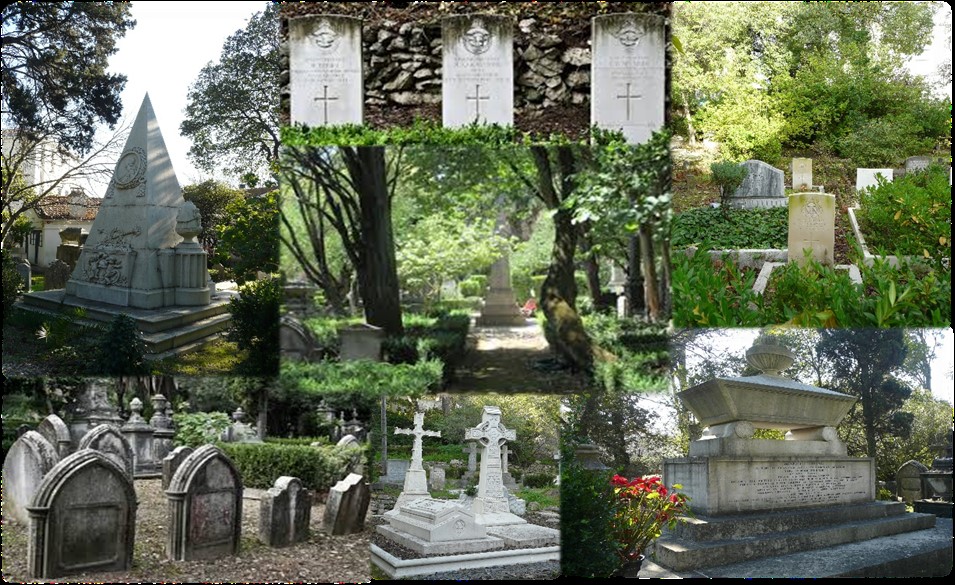 Date and time: Saturday, 31st October 2020, at 11.00 and at 14.00 (two tours).
Programme: Members are offered the opportunity of a guided tour of the British Cemetery to see the most prominent graves of the 300 year old cemetery, including that of the novelist Henry Fielding and Commonwealth War Graves. Each tour will last approximately one and a half hours. A variety of lunch venues can be found on the Calçada da Estrela near the Basilica da Estrela. Please note that the Cemetery gate will be closed between 12.30 and 13.50.
This activity will be entirely outdoors and the following COVID-19 government restrictions will be strictly enforced:
The use of a face mask and maintaining a social distance of two metres.
A maximum limit of five participants – which is why two separate tours have been organised in the MORNING and in the AFTERNOON. Places are limited to Members only. Applications will be treated on a first-come-first-served basis.
Meeting Point: at the main entrance to St George's Church.
Parking: limited parking will be available at the Cemetery. Being a Saturday, street parking should be available.
Price: €10.00 (payable on the day) - Members only. The price includes a donation to British Cemetery funds of 5€ and a copy of the recently published guide/map to the cemetery*, the cost of which was generously sponsored by the Rankin family
Booking a place: Please confirm your participation by E-mail to library@bhsportugal.org by Friday 23rd October, indicating your preference for the time of the tour: MORNING (11.00) / AFTERNOON (14.00) / EITHER ONE, and also the following details: Name(s); Phone No./Email; Date(s) of birth, which is required for insurance purposes.