On one of the hottest July days of the year (34º C in Lisbon) the British Historical Society drove up into the cool Sintra hills to enjoy a picnic lunch in the grounds of the Chalet of the Condessa d'Edla. And who was this Victorian-era Countess? Well, thereby hangs a really romantic tale.
To position our story correctly we must go back to the year 1834, when a young queen, D. Maria II, came to Portugal to take up her birthright. She was 15 years old at the time and she had inherited a country ravaged by war, not only the five years when the battles of the Peninsular War raged across the country but also six years of devastating civil war between her father, Pedro, and his brother Miguel. In those days marriage was a priority, especially for such a young and politically vulnerable queen, and in 1836, by now aged 17, she accepted as her husband Prince Ferdinand of Saxe Coburg and Gotha, three years older than herself and a first cousin of Queen Victoria's beloved husband, Prince Albert. Fernando, not unlike his cousin Albert, was an intelligent and artistically-minded young man.
One year after her marriage D. Maria II gave birth to her first child (later to become D. Pedro V) and by Portuguese law D. Fernando then assumed the position of King Consort with the title of D. Fernando II.
It is thought there must have been a great deal of affection in this arranged marriage – the birth of ten children in sixteen years was surely somewhat beyond the call of duty! Although D. Maria II was the monarch, the royal couple formed a good team and worked together to solve many of the grave economic and political problems which overshadowed the reign.
D. Maria II died in 1853 in the course of her eleventh pregnancy and D. Fernando's reign as king-consort automatically came to an end, although he held the regency for two years until his son D. Pedro V attained his majority in 1855.
Throughout his time in Portugal D. Fernando had always taken a practical interest in the ruinous state of the country's historic buildings and he oversaw the protection and restoration of many monuments which are familiar to us today. His personal project was the purchase and afforestation of as much land in the Sintra hills as he was able to obtain, centered around a former hilltop monastery, Nossa Senhora da Pena. It is difficult to realise that 160 years ago the boulder-strewn Sintra hills were almost bare of vegetatopm.
D. Fernando's second great passion was for music and especially opera and it was when he attended a performance of Verdi's Un ballo in Maschera at the São Carlos opera house in Spring 1860 that the 44 year old king saw and fell deeply in love with a 24 year old Swiss-born singer, Elise Friedericke Hensler. Their relationship deepened rapidly, fuelled by their mutual passion for sculpture, ceramics, painting, architecture and gardening.
Well, now, kings often had mistresses, that was accepted, and in the case of a widowed king, still in the prime of life, it was perfectly understandable that he might wish to set the lady up in a little house close to his new palace at Pena, but scandal set broke out when it was realized that the king wished to MARRY this woman, not a member of the nobility - a member, in fact, of the highly suspect theatrical world, and to make it worse, the unmarried mother of a five year old daughter whose father was unknown! For nine years the scandal raged and it was hard to pick up a Portuguese newspaper without reading about the latest episode, the latest criticism.
It was during these years that D.Fernando began to work intensively on the construction of the fantastic Pena Palace, located on the site of the ruined convent, Nossa Senhora da Pena, which the king had bought together with the neighbouring Moorish Castle. He and Elise also planned and built a small chalet, set at a short distance from Pena and built somewhat in the style of the mountain chalets they had seen in the course of their journeys together.
They designed and decorated the building "as they went along" and no plans were drawn up (which provided a headache for restorers working in the early years of the present century). Gradually the little house took shape. The ground floor was built on a square foundation whilst the upper storey was cruciform in shape with a balcony running all the way round so that the couple could enjoy views of the Pena Palace and the distant coast as well as of the planting of trees, shrubs and ferns taking place all over the hillsides. Elise, who had been educated for some years in the U.S., brought in many species of trees from North America, with the help and advice of her American brother-in-law.
The desire to marry Elise was never far from the king's mind and in 1869 he managed to remove at least one of the widely expressed objections to her plebian origin by persuading his cousin, Duke Ernest II of Saxe Coburg and Gotha, to create a title for her, so that she became Elise, Condessa d'Edla.
Their morganatic marriage was celebrated in Benfica in June that year and they lived happily together, usually in Sintra, until the death of the king in 1885 .They had no children. Elise survived him by over forty years, living with her daughter, now married to a Portuguese gentleman, until her death in 1929.
Our romantic story ends here for in the years after Portugal became a republic in 1910 Elise's Chalet led a chequered life, until finally being almost completely destroyed by fire in 1999. Four years later a specialist team began painstaking rebuilding and restoration work, so meticulously carried out that it has won several national and international awards.
When the British Historical Society group arrived on that brilliant July morning they found a house which looked just as it did at the time it was built, a brick construction covered in plaster wonderfully painted to resemble wooden planks, and with windows, balconies, handrails etc. all decorated in virgin cork – an idealized version of a mountain chalet. Inside the restoration team have gone to considerable lengths, with very little data to work on, to identify the use of the various rooms and to reconstitute the decorative elements painted on the walls. In some rooms work is still in progress.
Surrounding the chalet is a beautiful garden, full of mature trees, lakes and flowering bushes, which in fact forms part of the park surrounding the Pena Palace. Two 12-seater electric buses of the hop-on/hop-off variety travel around the park carrying visitors into deep fern-filled valleys and past the little "farm" with its rabbits, goats, ducks, swans and horses. One of these buses carried the "Historicals" to the picnic area, where sawn off tree trunks provide tables, stools, and even wide "sofas" for the comfort of picnic groups.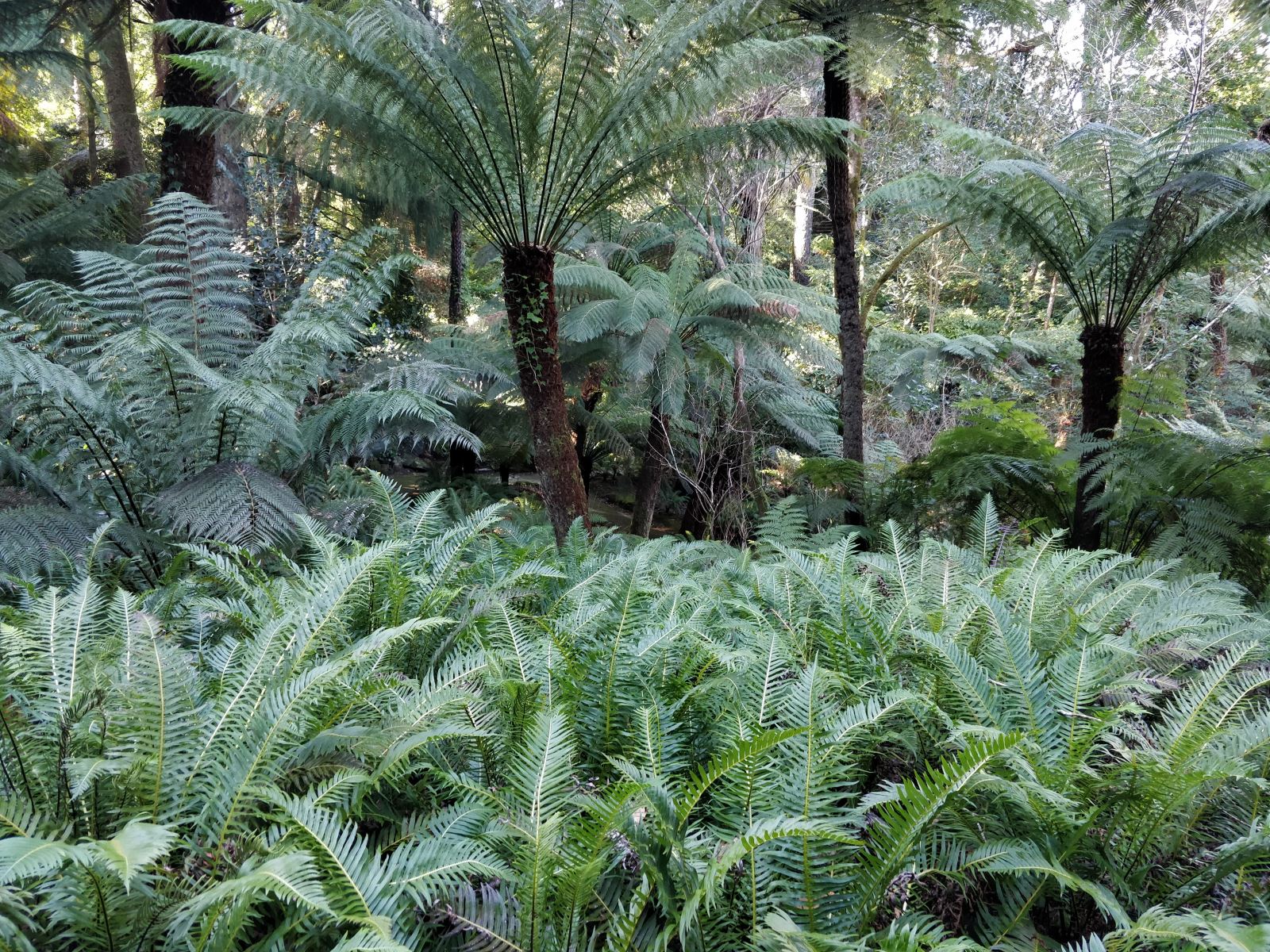 The Fern Garden
If you would like to take your summer guests to visit the chalet, opening times in the summer months are from 9H30 to 18H00 with the surrounding park staying open for an hour longer.
The simplest road access is by the EN-247 from Pé da Serra (on the Cabo da Roca/Colares road). Signposting has not yet been completed so after you pass the Convento dos Capuchos you need to pay attention to avoid driving straight past the main gate of the chalet, which will be on your right as you come from Capuchos. There is a small car park on a steep bank just up the road from the main gate.