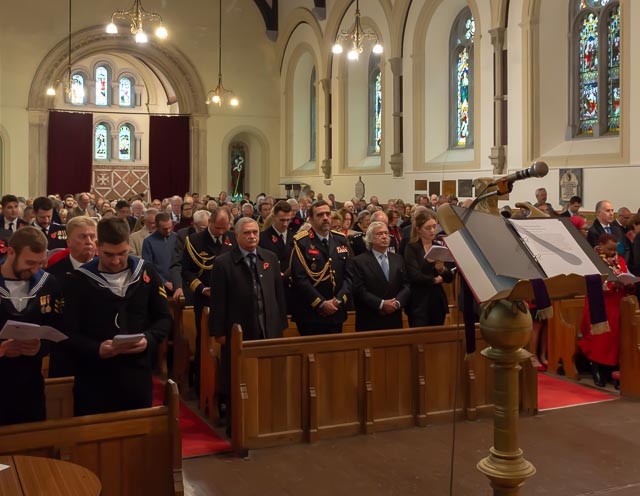 Remembrance Sundays in Lisbon normally take place on a warm and sunny autumn day with the Act of Remembrance and laying of wreaths taking place outside St. George's Church at the Memorial Cross in the beautiful British Cemetery. This year was very much the exception and the constant downpour meant a last-minute change of plan and these ceremonies took place inside the church in the War Memorial Chapel at 10.45 am.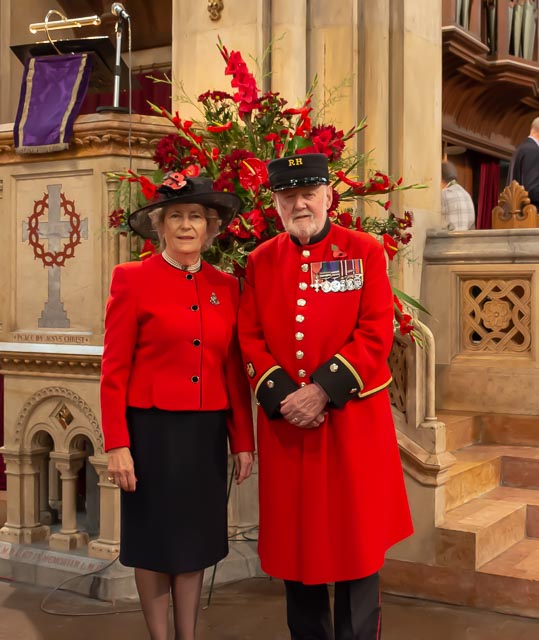 As usual Names to be Remembered were read out and the Last Post and Reveille sounded by a Portuguese army bugler. Wreaths were laid by HM Ambassador, Mr. Christopher Sainty;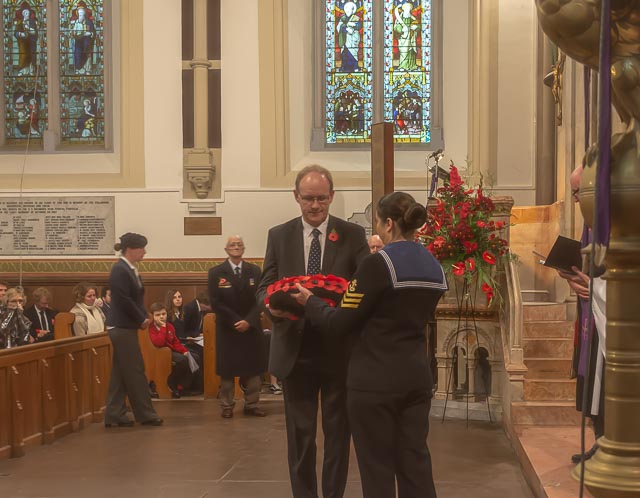 Rear Admiral Guy A Robinson, OBE, Deputy Commander STRIKFORNATO; Mr Phil Ladbrook, vice chairman, Royal British Legion, Portugal; representatives of British families who had lost relatives in the two world wars and other dignitaries present. A wreath was also laid by a special guest, in-pensioner Brian Cumming, MBE, GCStG, of the Royal Hospital Chelsea, resplendent in his scarlet uniform. The principal officiant was the Reverend Dr. Frank Sawyer, chaplain of the Greater Lisbon Chaplaincy, assisted by the Reverend Norman Hutcheson, locum minister of St. Andrews Church, Lisbon.
After the service HM Ambassador invited members of the congregation to the Church Hall for light refreshments.
On their way to the Church Hall, they would have passed rows of several beautifully maintained Commonwealth War Graves marking the final resting places of members of aircrews who lost their lives in the Second World War in crashes in the Sintra area. There are in fact 31 Commonwealth War Graves, in the British Cemetery, Lisbon, some standing alone in various parts of the cemetery. Five relate to First World War casualties and 26 relate to Second World War casualties.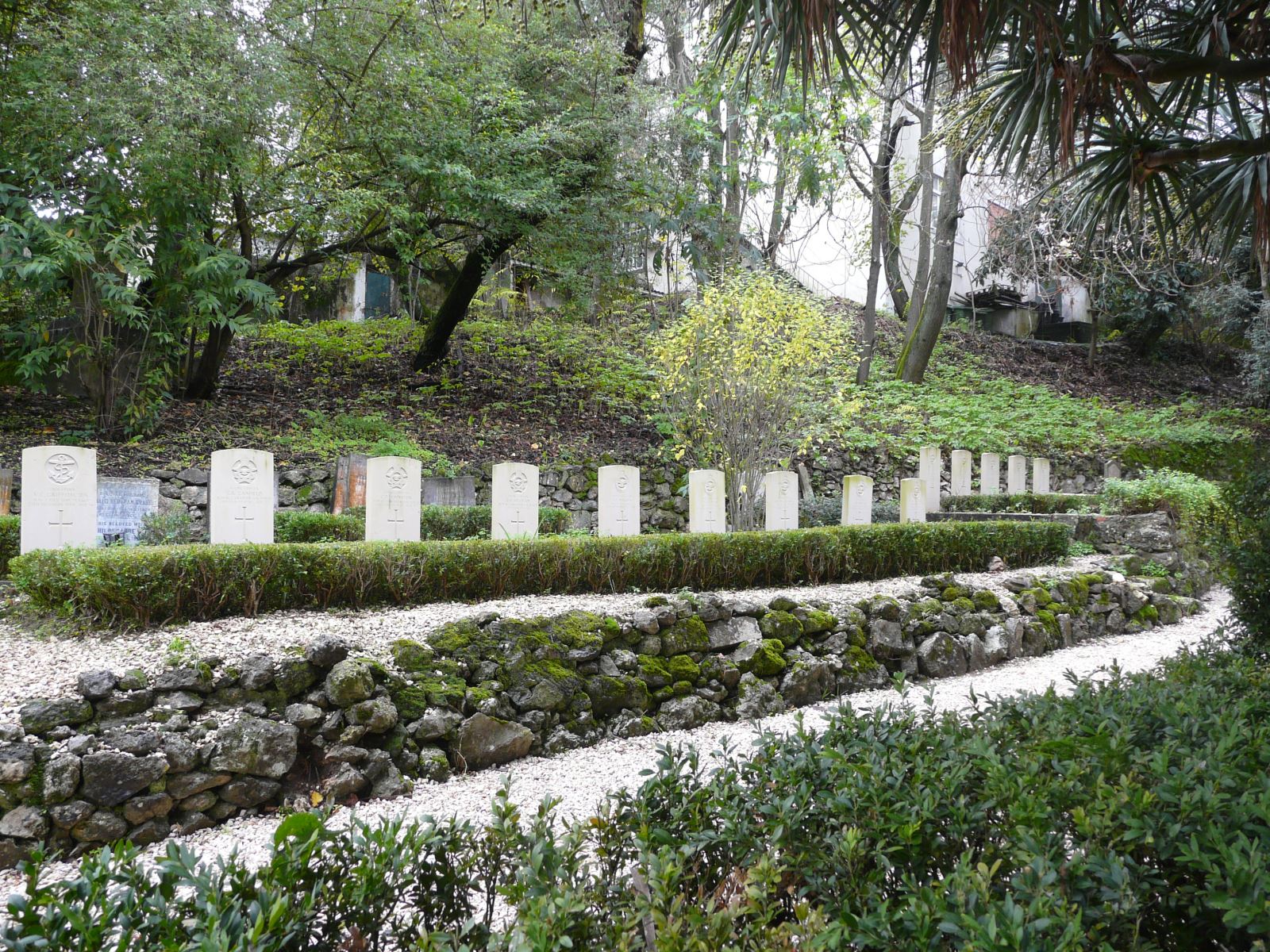 The two tablets in the War Memorial Chapel list names of members of the British Community in Lisbon who fell in the two conflicts. Many are from British families resident in Lisbon who are buried in cemeteries "in a foreign field", far away from their family home. Others have no family connection with the Lisbon area but were young men who came to work here and then joined the armed forces.
Eleven names appear on the First World War tablet. Only three of these men are buried in the cemetery, namely Lt. Douglas Rawes - King's Royal Rifles, Lt. George Norton-RAF, and Major James Henry Lionel Vaughan - King's African Rifles. The cemetery also contains two graves of men who died in Lisbon: Corporal Albert Farley-Royal Engineers was a member of the British Military Mission to Portugal and died of smallpox, and Private Arthur Henry Harris, Royal Marine Light Infantry died in Lisbon after the ship he was serving on was torpedoed off the Azores.
Twelve names appear on the Second World War tablet including one civilian, Michael Shervington. As far as the writer is aware none of these persons is buried in the cemetery. Michael Shervington was the manager for Shell Oil in Lisbon. He was a fellow passenger of the film star Leslie Howard on the KLM DC3 aircraft which left Lisbon on a scheduled BOAC flight on 1 June 1943 and was shot down over the Bay of Biscay.
Twenty-six Second World War graves are located in the cemetery. Several relate to British and Canadian aircrew who lost their lives when their aircraft crashed near Sintra, attempting to land in bad weather at the military airport, probably for refueling. It should be noted that there was a constant air ferry of transport aircraft between RAF Portreath, Cornwall, and Gibraltar, and onwards into North Africa and the Middle East. These planes would have carried personnel and urgently needed supplies. Three graves are of crew members of the merchant vessel Avila Star which was torpedoed off the Azores on 6 July 1942. They were in life boat no. 6 for twenty days, suffering great privation and exposure until picked up by the Portuguese navy sloop, Pedro Nunes. One died on board the Pedro Nunes and two others died in a Lisbon hospital.
Further reading: The Commonwealth War Graves Commission web site lists all casualties buried in St George's cemetery. Also, Wikipedia gives a good account of the Avila Star and its crew.
Photos by courtesy of Peter Curtis, www.kapitvaphotography.com - peter@kaptivaphotography.com