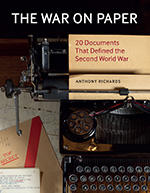 From diagrams to letters of surrender and photographs of troops in action, these documents, published in a book by Anthony Richards and distributed by the Imperial War Museum - brought to public attention by Sophie Law for MAILONLINE on 24 September 2018 - highlight the full drama of the Second World War.
One fascinating document shows the hand-drawn sketch of the evacuation plan produced by Captain F K Theobald for the British Expeditionary Forces to escape from Dunkirk in May 1940.
This book - detailing the key moments of the war from the first declaration to the final truce is definitely a must-read and a must-have for any bookshelf today.
The War on Paper by Anthony Richards – published 27/09/2018 by the Imperial War Museum – ISBN 9781912423002.