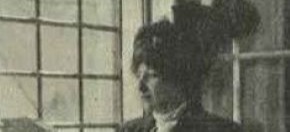 Alice Lawrence Oram (1864 – 1948) was the daughter of William Oram and Jane Lawrence, the owners of Lawrence's Hotel in Sintra. The hotel, with its association with Lord Byron and other famous visitors, gave her the chance to meet many writers and artists at a young age.
She became a journalist and was a correspondent for the Associated Press, Reuters and the Daily Mail. Her report for the Mail on the revolution of 5 October 1910 was the first news of the event to be released abroad. It is said that she walked around Lisbon under gunfire in order to find out what was going on. Her home, close to the palace of the Dukes of Palmela, gave her an ideal location to observe the comings and goings of Lisbon's elite.
In 1912 she was briefly arrested for alleged participation in a conspiracy to restore the monarchy, and was held at the Aljube prison in the centre of Lisbon. The photo above was taken when she was in prison. The trial, which became a cause célèbre in Lisbon, quickly collapsed. She admitted to having been in contact with royalists but argued that this was necessary for her work as a journalist.
In May 1916, Oram went with Virgínia Quaresma, the first Portuguese woman to be a professional journalist, on a dive on a submarine. The voyage, on the Portuguese Navy's first modern submarine, was said to have been the first trip by female reporters in a submarine, at least in Portugal. In later years, she was involved with the first Portuguese press agency, Lusitânia, which aimed to be a news agency that would connect the entire Portuguese-speaking world.
Oram is buried in the British Cemetery in Lisbon in a family grave close to the Henry Fielding memorial.