-- COVID-19 permitting; reservations accepted --
(N.b.: those who have already registered do not need to register again)
Due to the COVID-19 pandemic, the Council yet again had to postpone the weekend trip to MÉRTOLA - to 6th to 8th of MAY, 2022.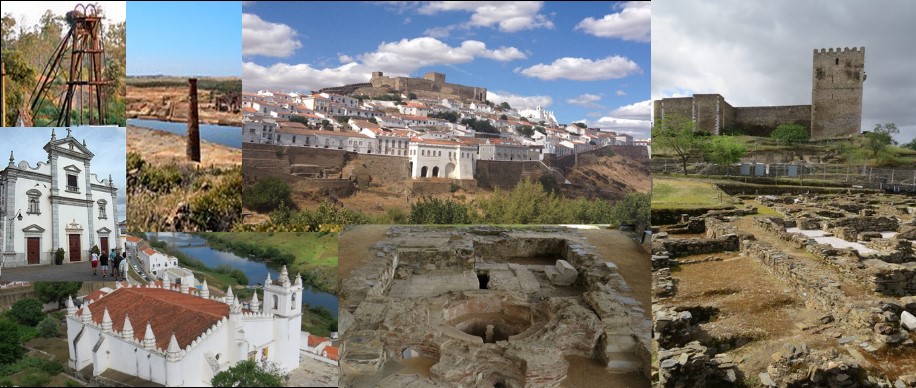 Date: Friday afternoon to Sunday afternoon, 6th - 8th MAY, 2022.
Venue: a two-and-a-half day trip to Mértola, in the Alentejo, with a guided tour to the Moorish ruins and museum, as well as the vestiges of the São Domingos Mine. The two nights will be spent at the Beira Rio Hotel in Mértola.
Programme: Following the very successful lecture by Dr. Santiago Macias on Daily Life in Islamic Portugal, the Society has organized a trip to see the sites and excavations that he mentioned in Mértola. We book in to the Beira Rio hotel in the centre of Mértola on the Friday afternoon, in good time before dinner at the hotel. On the Saturday morning we will have a guided visit to the vestiges of the São Domingos Mine, where silver and gold was first mined by the Romans. The British company Mason and Barry mined copper and later pyrites from 1859 to 1966, and the mine became one of Europe´s largest. After lunch we will be guided around the Moorish ruins and museum at Mértola, including a reconstructed Moorish house. Saturday's dinner will be at the Brasileiro restaurant. On the Sunday, participants can wander up to the castle and church of Mértola, where one can see remains of the former mosque. Lunch will be in Beja, on the way home, where we have the opportunity to visit the castle and cathedral at leisure.
Time: Meeting point for the bus:
Lisbon 14.00: Museu de Lisboa, 245 Campo Grande, 1700-091 Lisboa (parking at the nearby EMEL car park).
Estoril 14.30: behind the Estoril Casino (parking at the paid car park). Return scheduled for 18.00 in Estoril, 18.30 in Lisbon.
Price: To be confirmed, but likely to be in the range of €180 per person double/twin room, €60 single supplement - all inclusive (€25 surcharge for non-Members).
Booking: Reservations may be made by sending an E-mail to library@bhsportugal.org. Payment details will be emailed nearer the date.