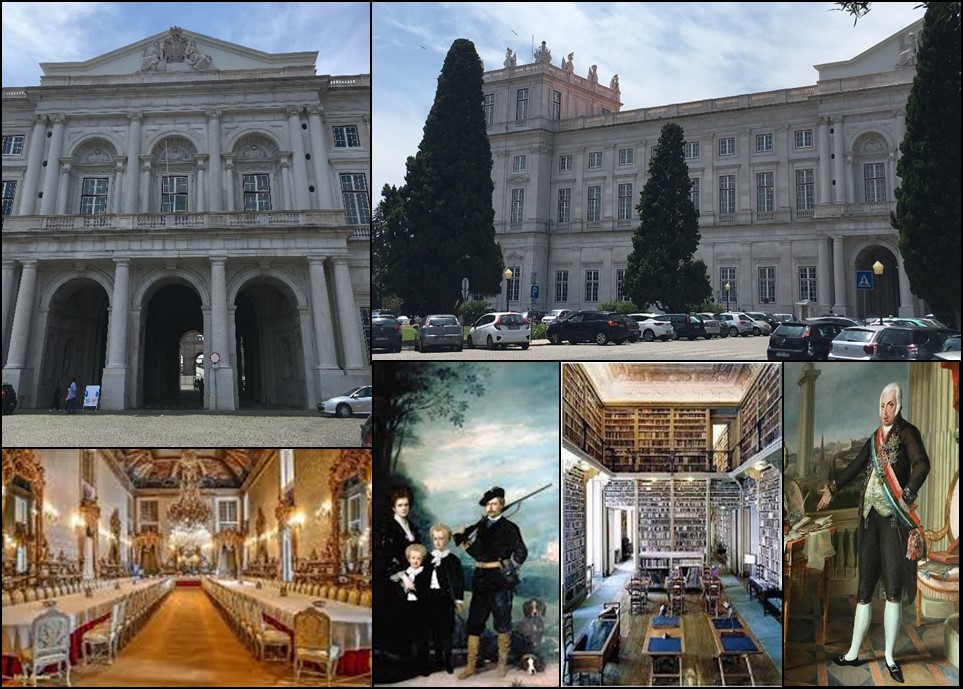 Date: Friday, 13th September, 2019.
Programme: Our visit to the Ajuda Palace includes a rare private guided visit to the library. D. José I ordered the construction of a wooden palace on a basalt hill, as a hedge against a repeat of the 1755 Earthquake. This burned to the ground in 1794 and in 1802 the building of a massive palace started – to be larger than Mafra. The Peninsular War interrupted the works, which recommenced in 1821, when D. João VI returned to Portugal with Carlota Joaquina and Princess Maria. The ambitious building plans were never completed. Prince Miguel was proclaimed king in the unfinished palace in 1828, and in 1834 D. Pedro IV confirmed the Constitutional Charter in the Throne Room. Queen Maria II never lived in the palace, nor did her son D. Pedro V, whose brother and successor, D. Luís I, and Queen Maria Pia of Savoy brought the palace to life. For half a century Ajuda was a family home, where Princes Carlos and Afonso were born. Queen Maria Pia continued living there after the assassination.
Lunch: A three course buffet with drinks at the Restaurant São Bernardo (http://www.saobernardo.pt/).
Time:
Lisbon 10.00: a car pool will be organised – please indicate whether you would like a lift. Alternatively meet at the Palace entrance at 10.40.
Estoril 10.00: a bus will leave the car park behind the Estoril Casino. Return scheduled for 16.00.
Price: €30.00 from Estoril, €20.00 from Lisbon … including lunch (€5 extra for non-Members).
Booking: Please confirm by E-mail to library@bhsportugal.org, or by post by Friday 6th September, with proof of payment.
Pick-up (please circle): I/We will be joining the coach in Estoril. I/We would like a lift from Lisbon.