Date: Saturday, 28th January, 2023
Time: 11.30
Venue: The Hotel Riviera, Carcavelos.
After morning coffee or soft drinks, our guest speaker will be Dra. Margarida Ramalho, whose illustrated talk in English is entitled 'Lisbon – the Last Frontier', which describes Portugal during WWII. A well-known archaeologist, Margarida Ramalho is a first cousin of the Society's late longstanding Chairman, Dr. Paulo Lowndes Marques, and kindly guided the Society around the excavations of Forte N. Sra. da Luz in the Cascais Citadel recently. She was also responsible for setting up the 'Frontier of Peace Museum' (illustrated) in Vilar Formoso, which includes a section on Aristides Mendes, who saved the lives of thousands of refugees in Bordeaux, as they fled the Nazis in the south of France. Vilar Formoso was visited by the Society in 2014, before the museum was built, as part of an excellent trip organised by Patricia Lamb. Coincidentally, the date of this year's Annual Lunch coincides with 'Holocaust Day', which is on 27 January.
After the presentation, and before we repair to lunch, there will be a brief book launch of the 'Memoir from the Boer War', which has recently been translated into English and published in Portugal as a limited edition by the Fundação D. Manuel II. The original was written in French in 1900 by Prince Luís of Orléans-Branganza, grandson of Emperor Dom Pedro II of Brazil and the great-uncle of Sr. D. Duarte de Braganza. It vividly describes his remarkable tour through the war zone on the sides of both the Boers and the British.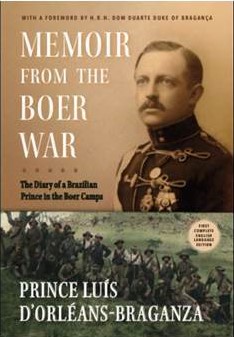 Lunch: A three-course buffet with drinks and coffee will be served.
Price: Price: €35.00 (€5 extra for non-Members)
Transport: Members and their guests are expected to make their own way to the hotel, where free parking is available nearby or paid parking in the shopping centre behind it.
Booking: please send an e-mail to library@bhsportugal.org stating the number of members and guests and any dietary requests. You will then receive payment instructions by e-mail.
Booking deadline: 12.00, Friday, 20 January, 2023.